Regular price
Sale price
$58.00 USD
Unit price
per
Sale
Sold out
Everything you need for sustainable shaving.
Your eco-friendly shave kit contains everything you need for plastic-free and sustainable shaving. Including a beautifully designed, reusable safety razor that will last for years to come, a luxurious shave oil that nourishes your skin while you shave, quality stainless steel razor blades, reusable tote bag and most importantly, a blade bank to dispose of used blades, that you can completely recycle when full.
Your Nära shave kit is:
✓ Everything you need for plastic-free & sustainable shaving in one kit
✓ An easy way to make the switch from disposable plastic razors
✓ More cost-effective than disposable razors
✓ Risk-free - Try it out risk-free for 60 days

Each shave kit also comes with a free reusable travel bag to keep your bathroom essentials.

Looking for our shave soap starter kit? Find it here.
What's in the kit?

1 x single blade reusable razor
1 x shave oil
1 x blade bank (100% recyclable storage for your used razor blades)
10 x high quality stainless steel razor blades
1 x reusable travel bag
How to use

Shaving with a Nära razor 

Apply generous amounts of Nära shave oil or shave soap
Hold the razor at a 30 degree angle and gently glide the razor over your skin without applying additional pressure
Use short
strokes to slowly work your way over your skin, taking extra care around
the skin covering your joints (ankles, elbows etc.)
Regularly clear the razor head of hair by rinsing under running water and wiping dry on a towel

Replacing the razor blade

Hold the razor guard in one hand and twist the handle until it detaches
Remove the cap from the guard and carefully place a blade on the flat surface, making sure to line up the holes
Replace the cap by passing the screw through the center hole
Firmly screw the handle back on
5% donated to fight plastic pollution

We donate 5% of your purchase to our partner 5 Gyres to support their fight against plastic pollution.
60 day money-back guarantee

We want you to be confident you've made the right choice when purchasing Nära products and it's why we offer a full 60 days in case you change your mind.

If you are not 100% happy with one of our products at the time you receive it (excluding used razor blades & Blade Banks), you can return it to us within 60 days for an exchange or refund.
Free shipping over $50

We ship exclusively via a carbon neutral carrier. Free shipping over $50AUD. Flat fee shipping of $9.95 for orders under $50AUD.
View full details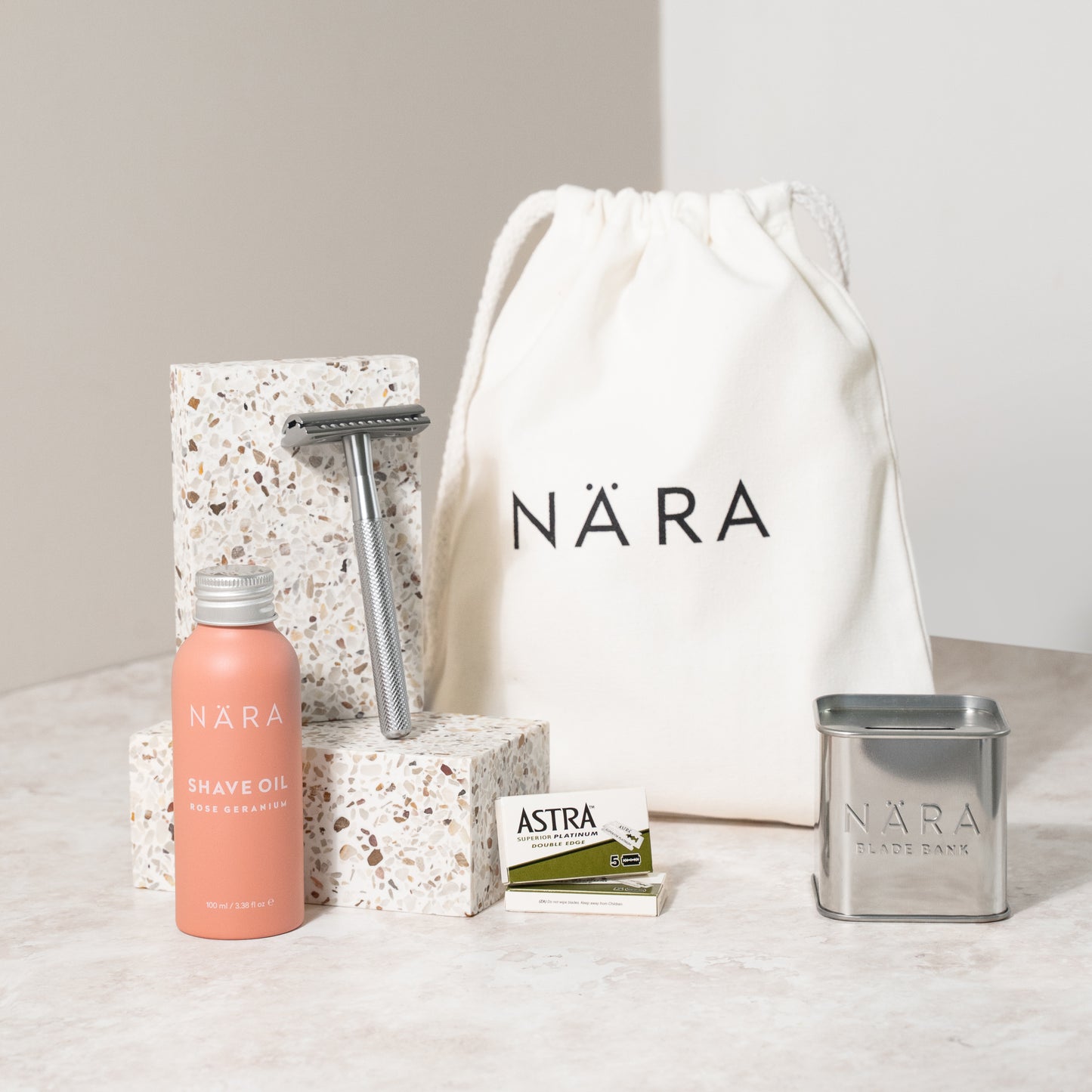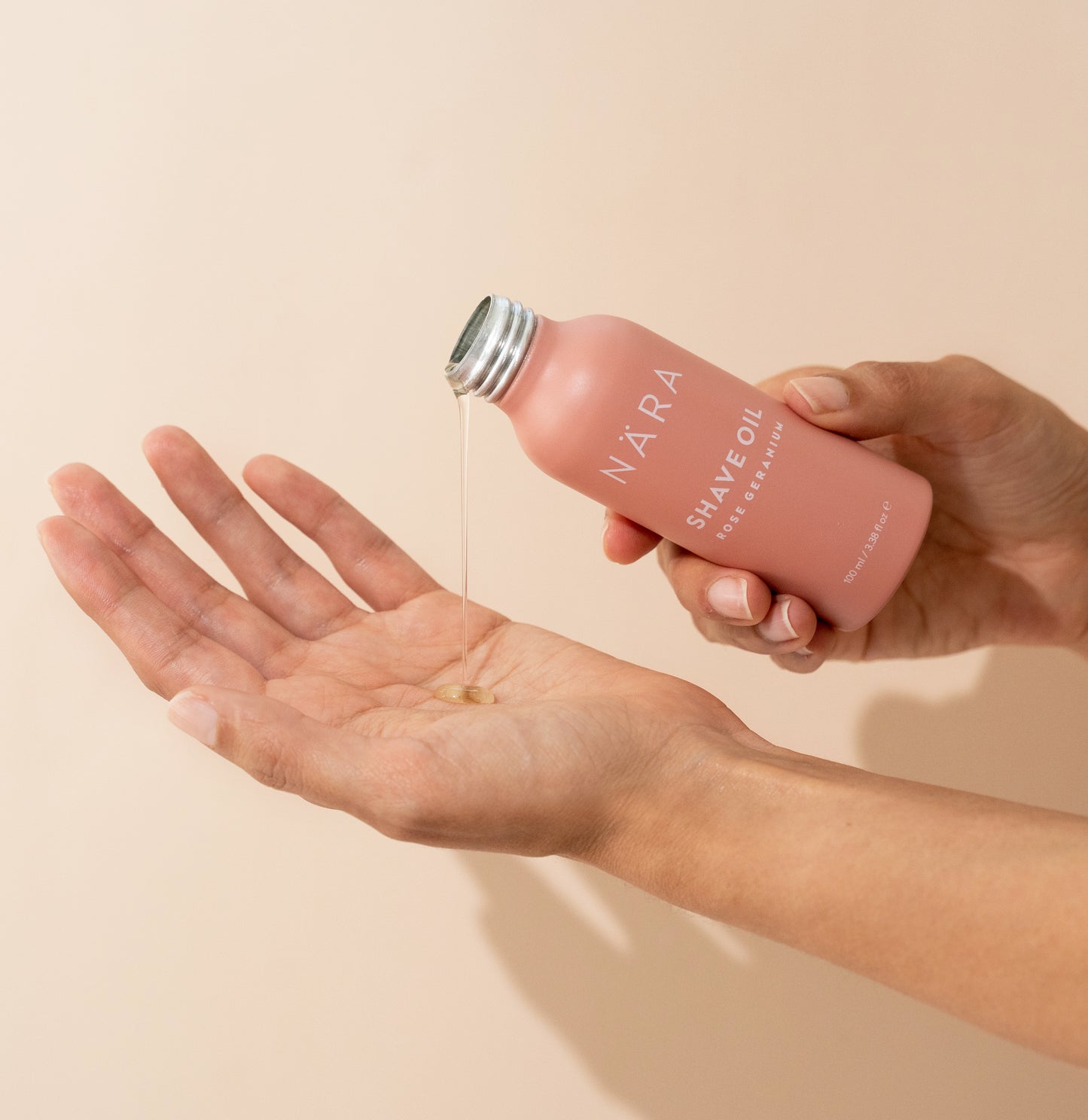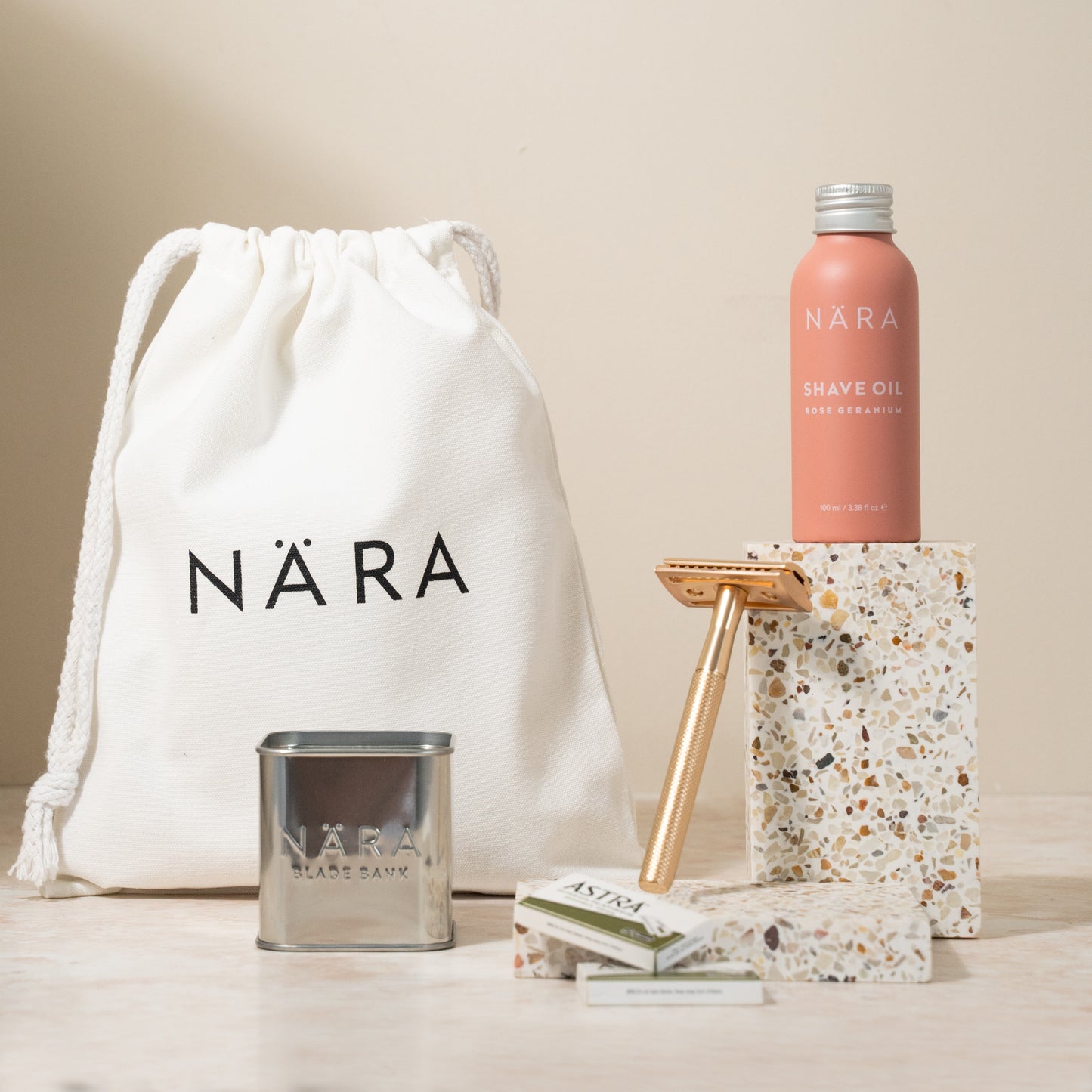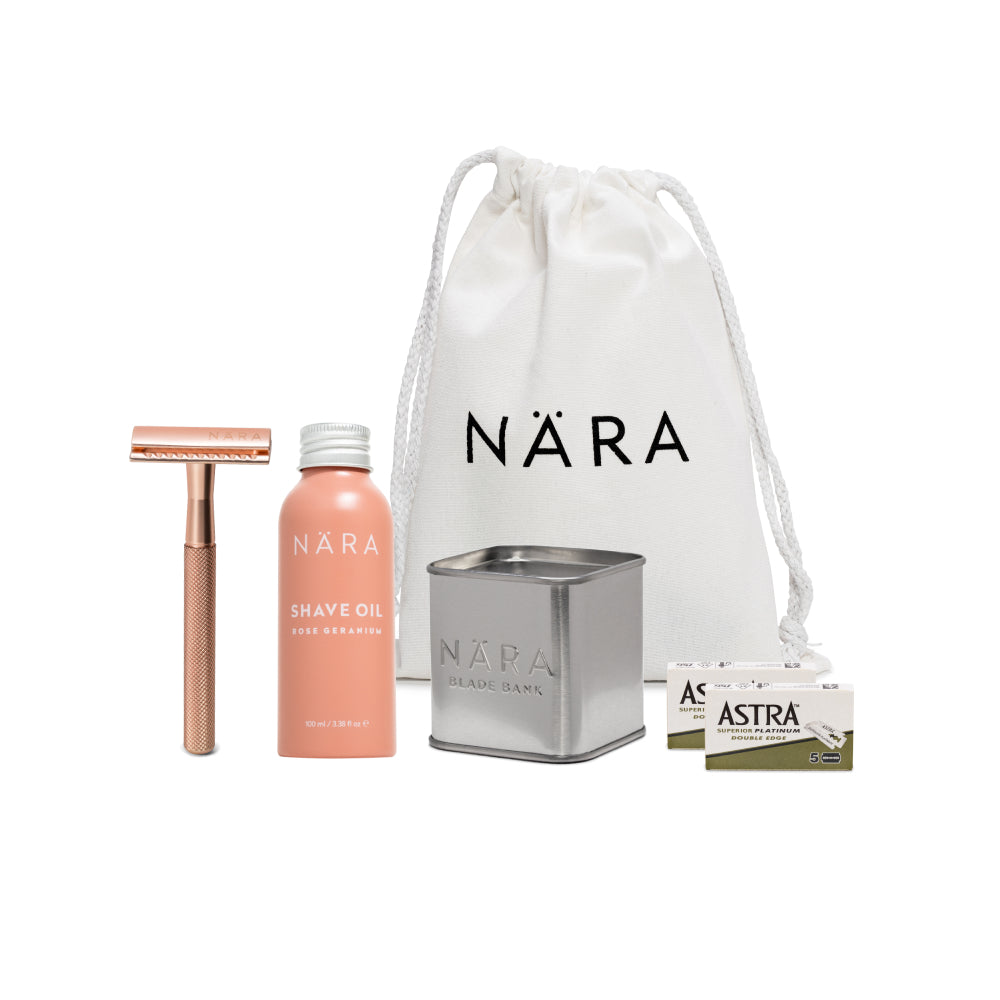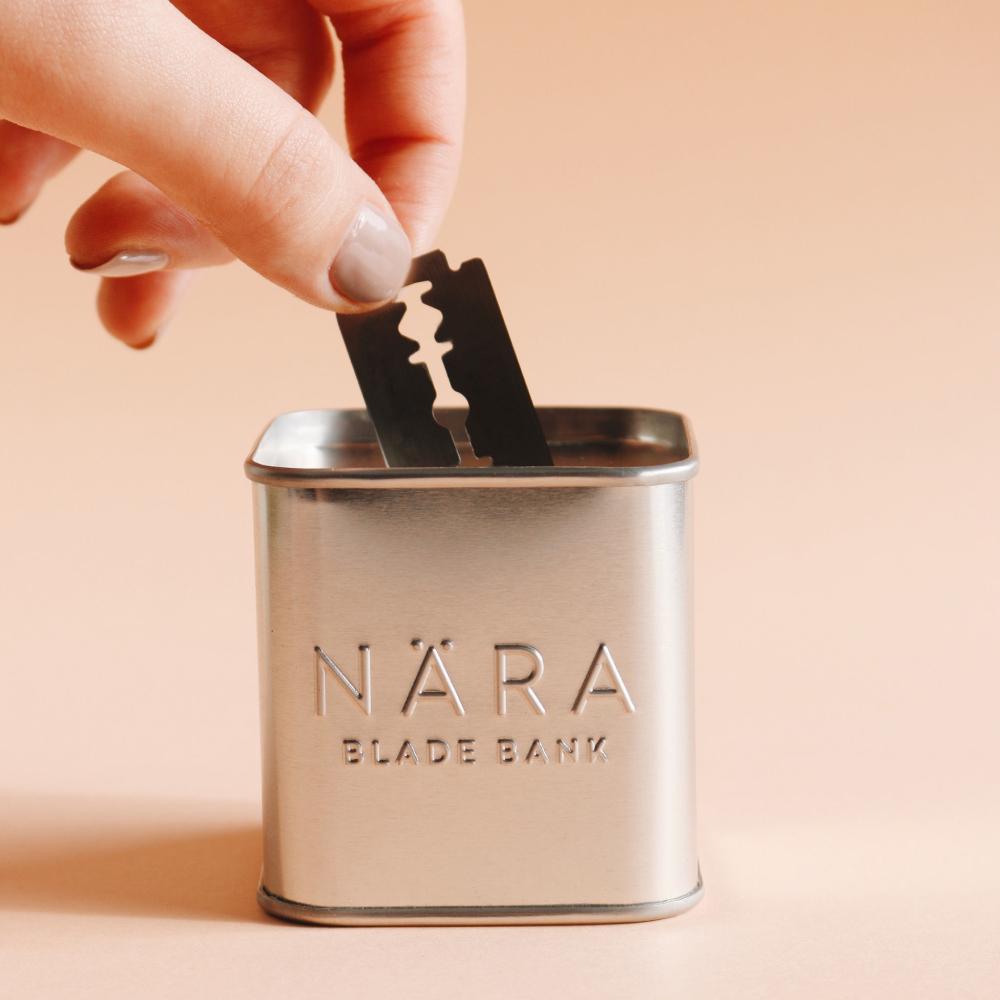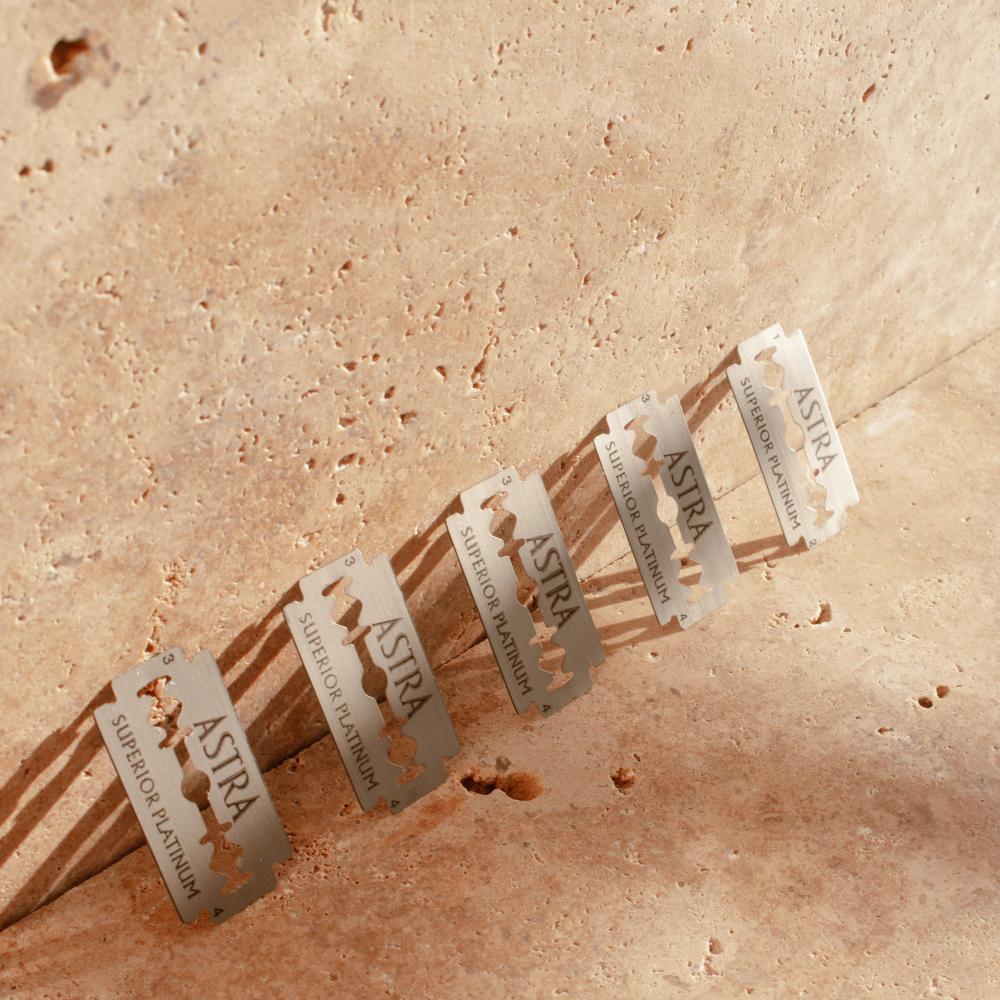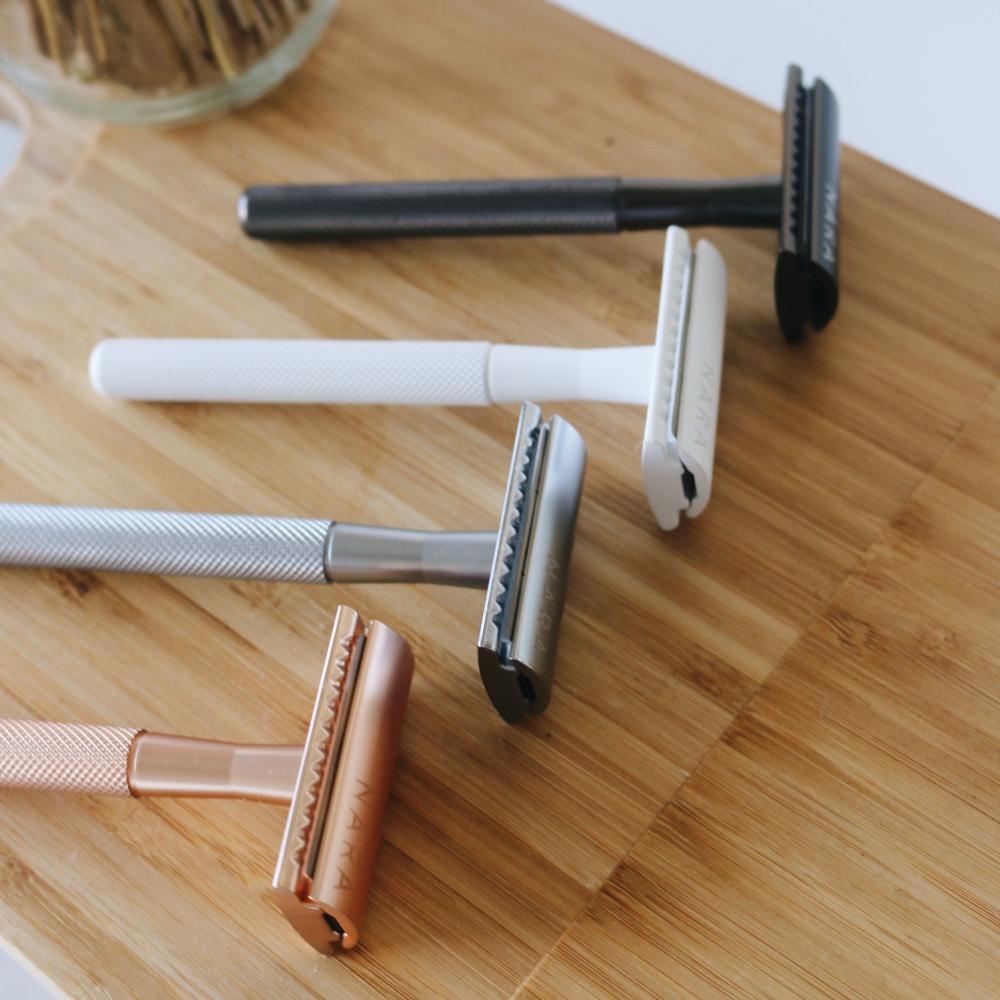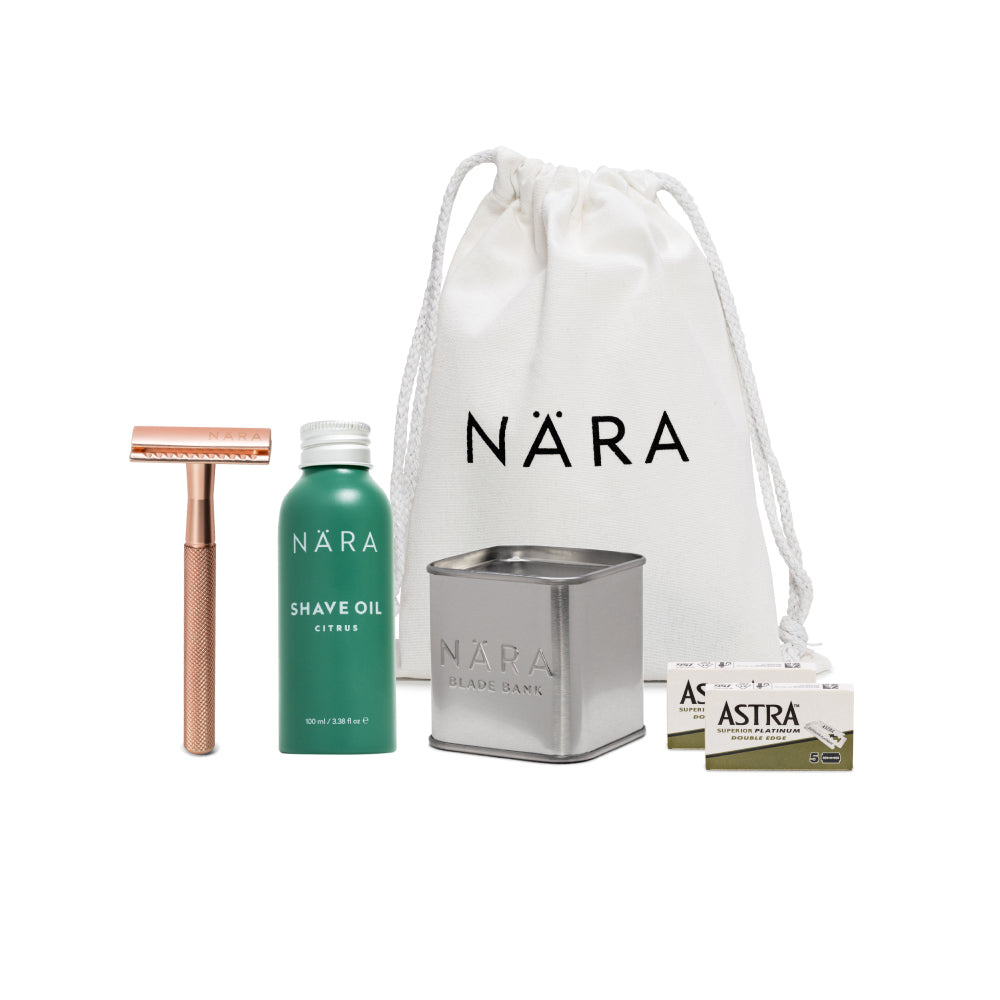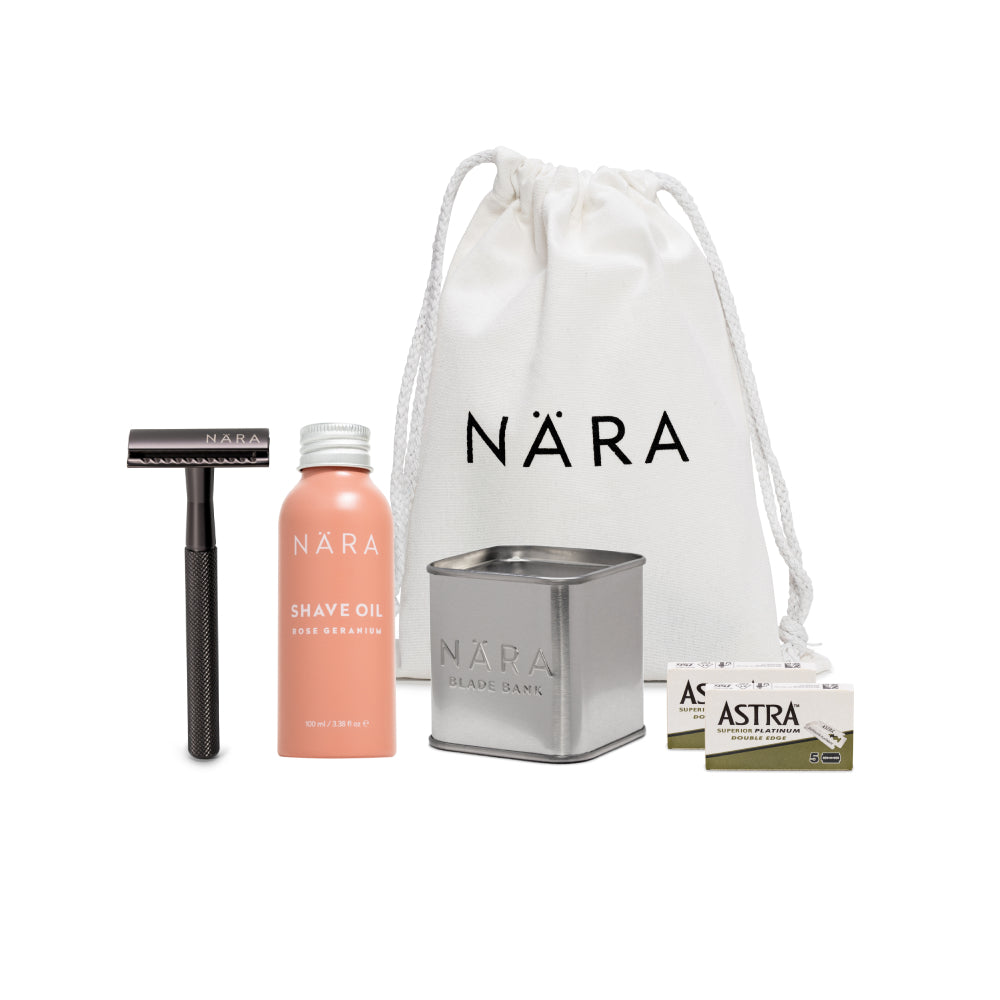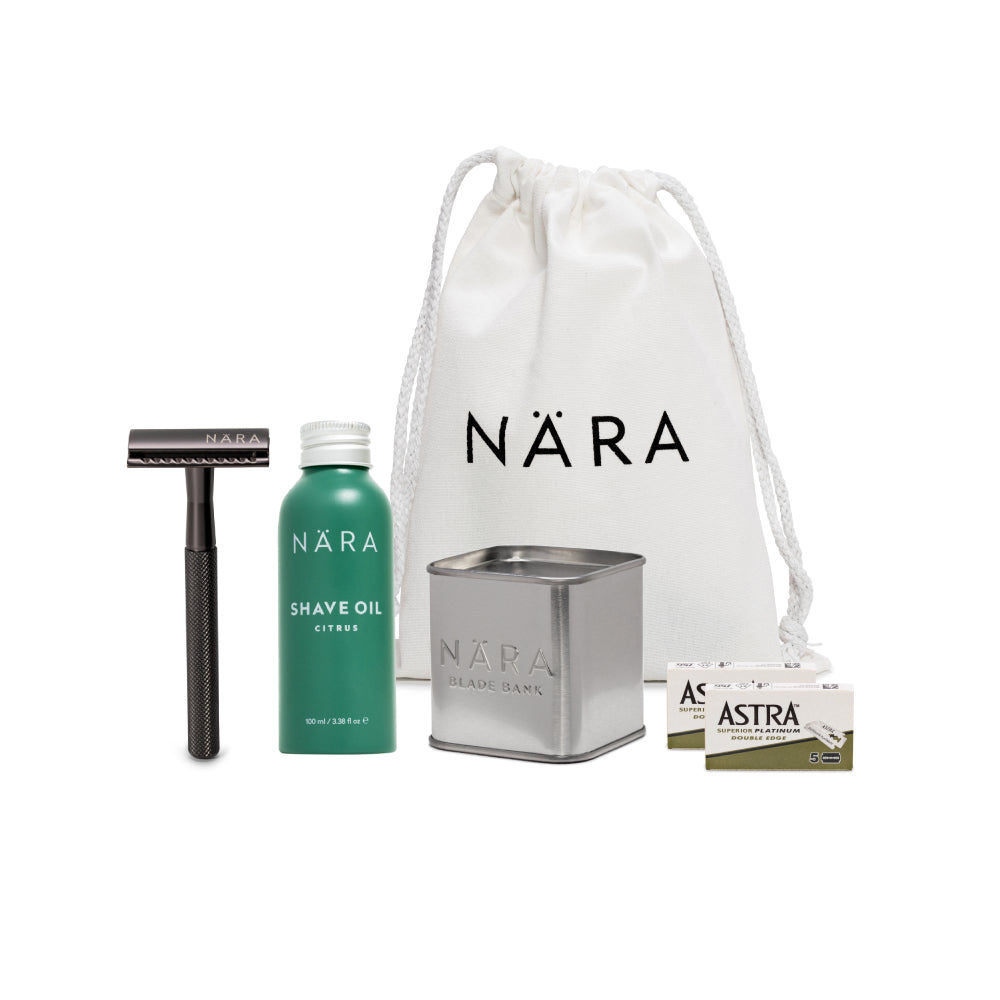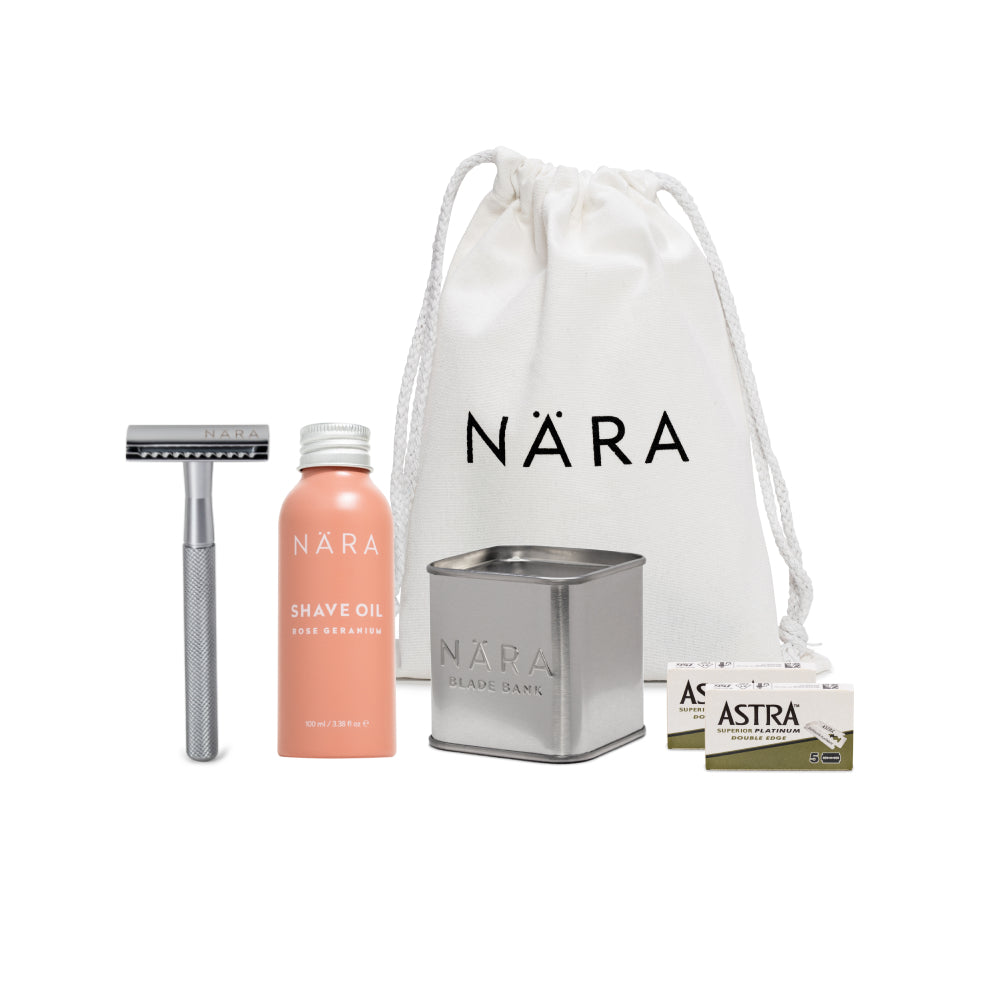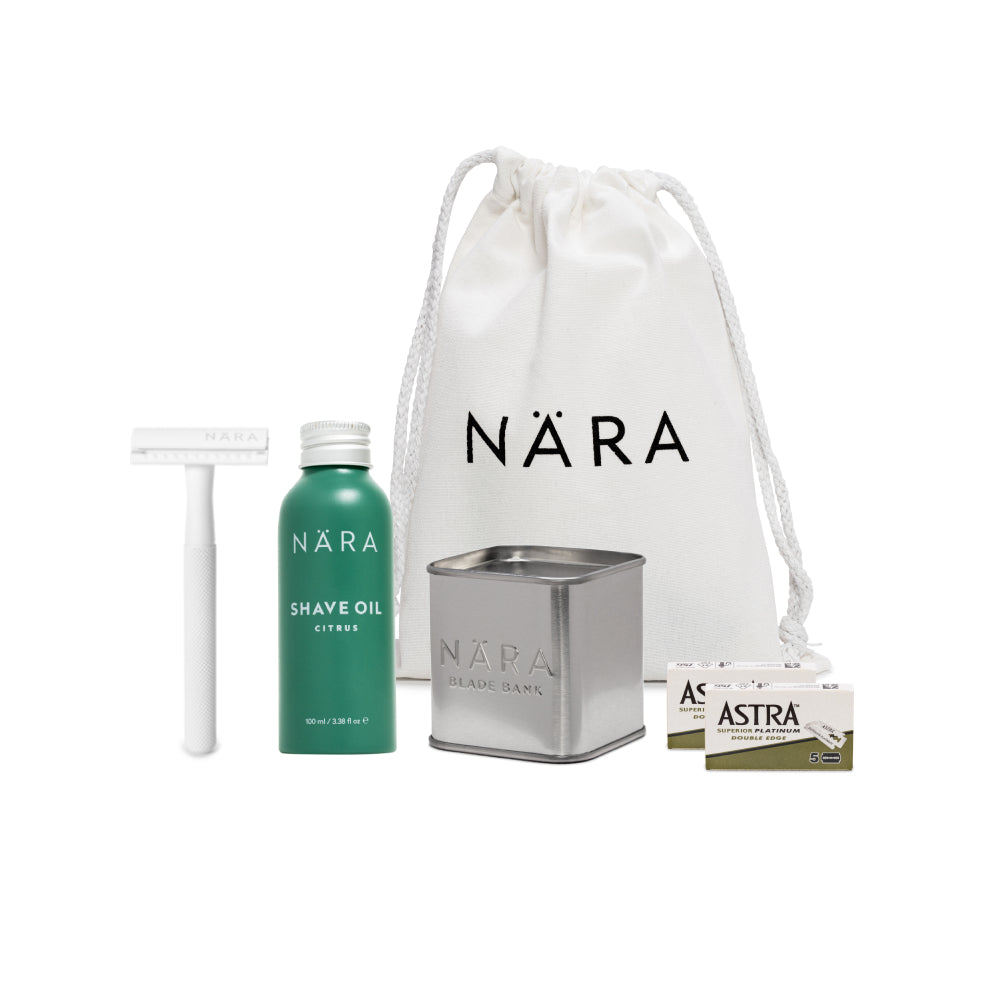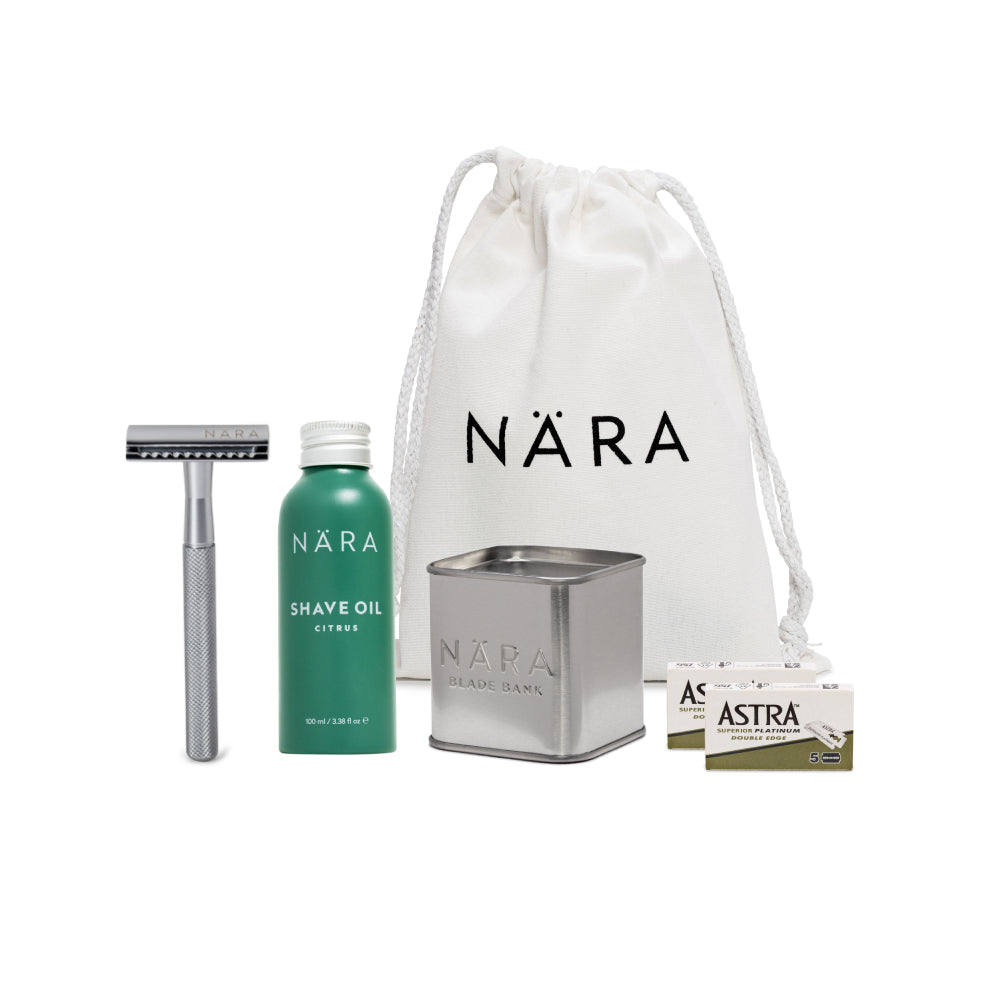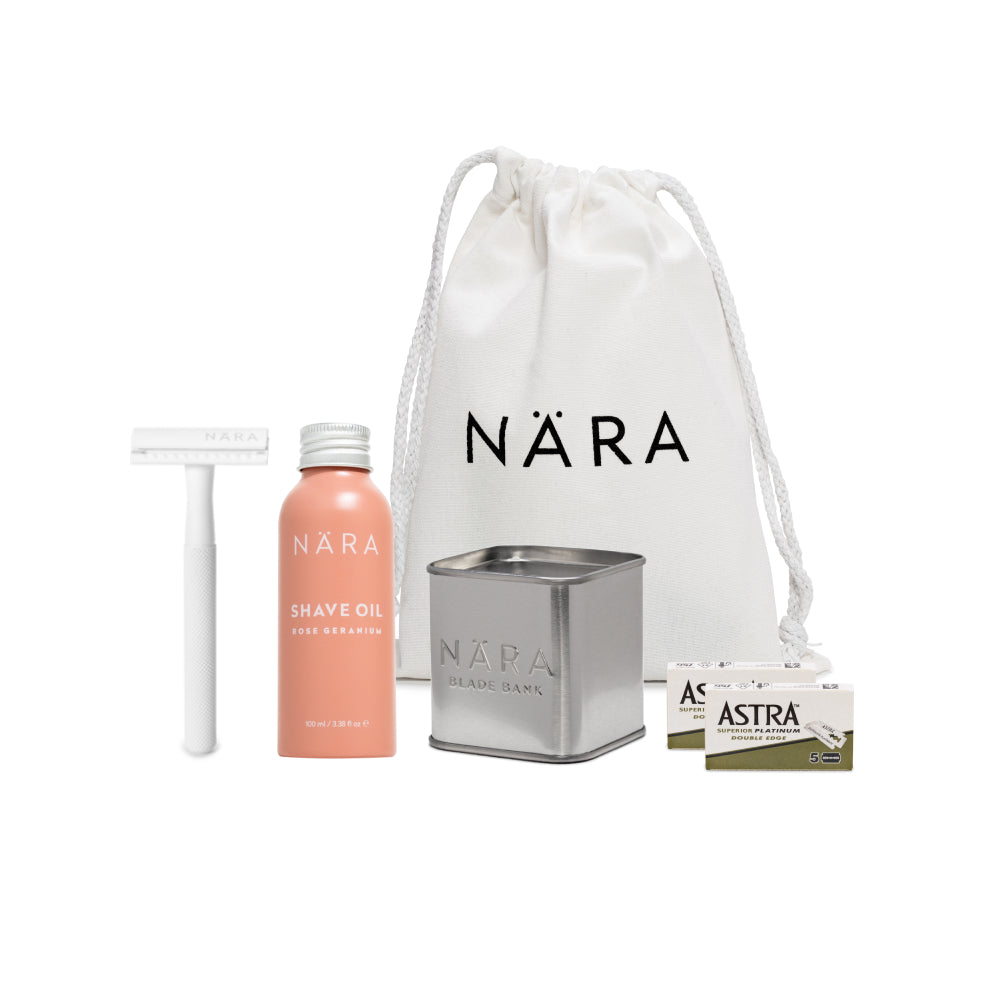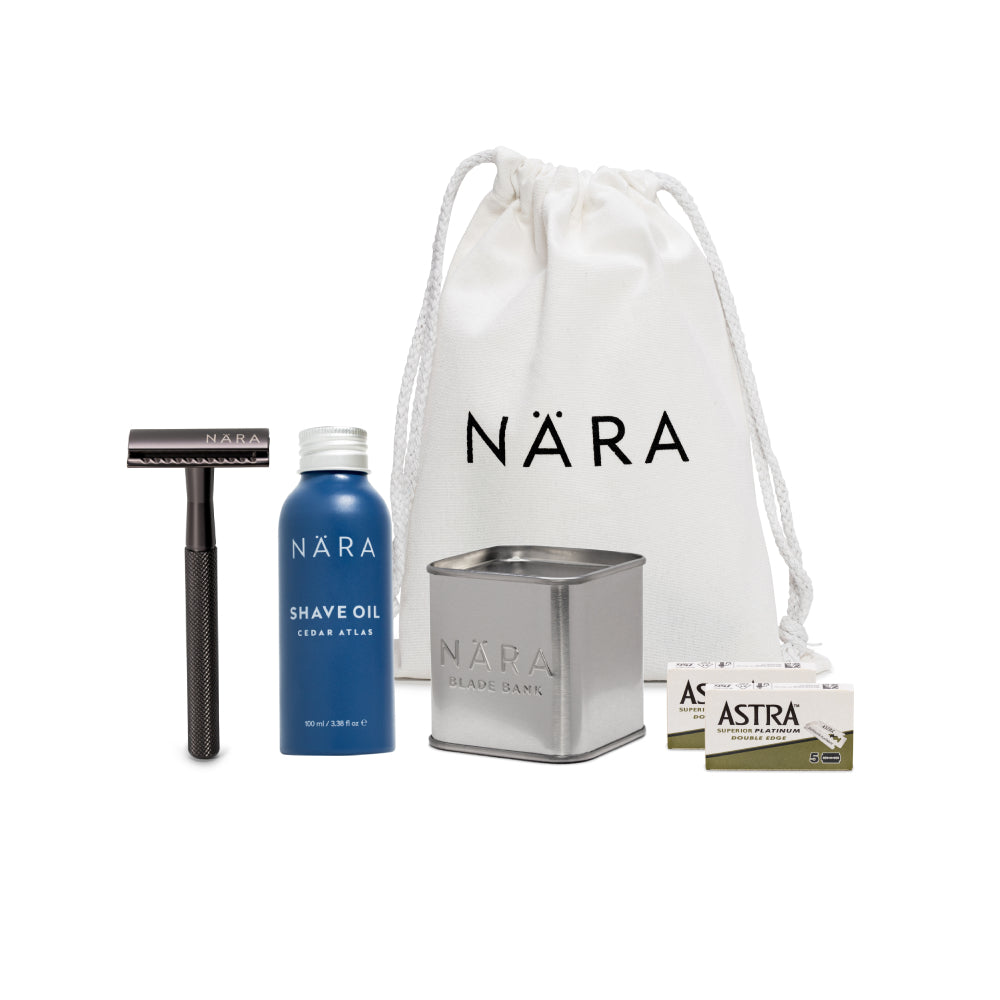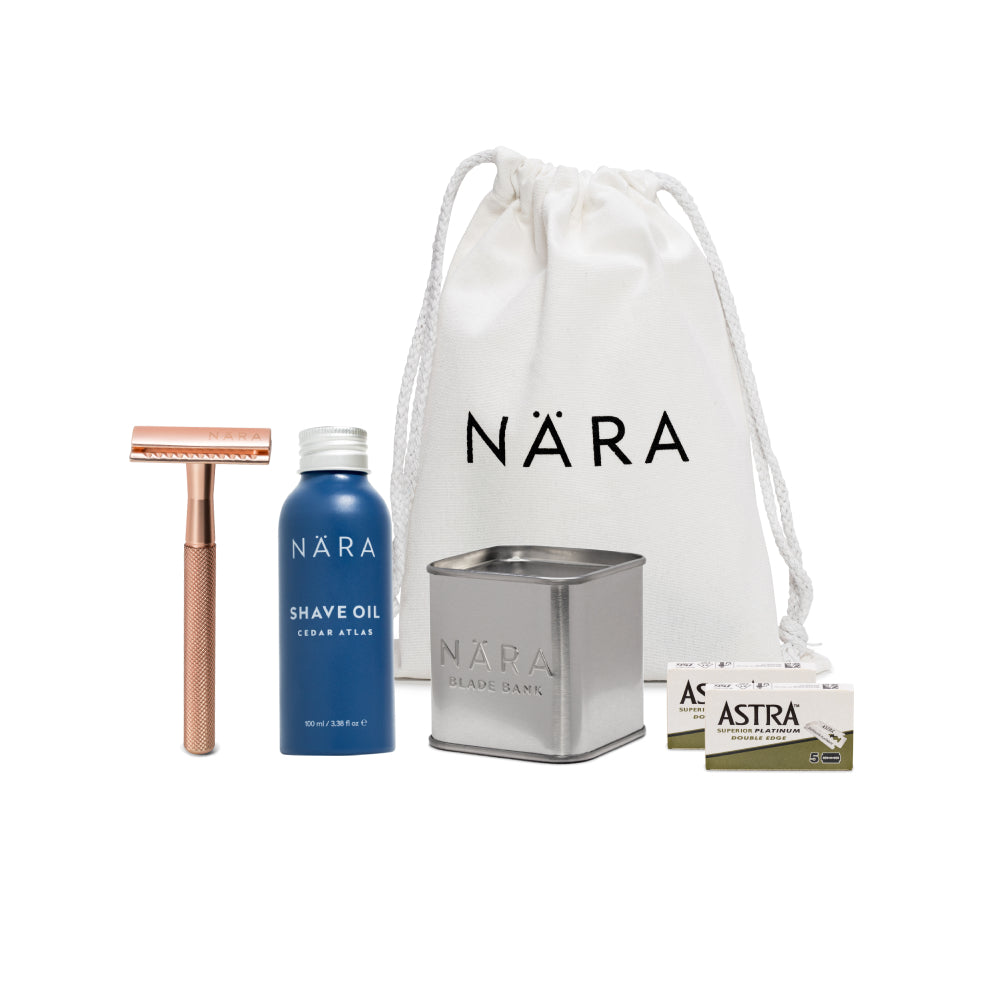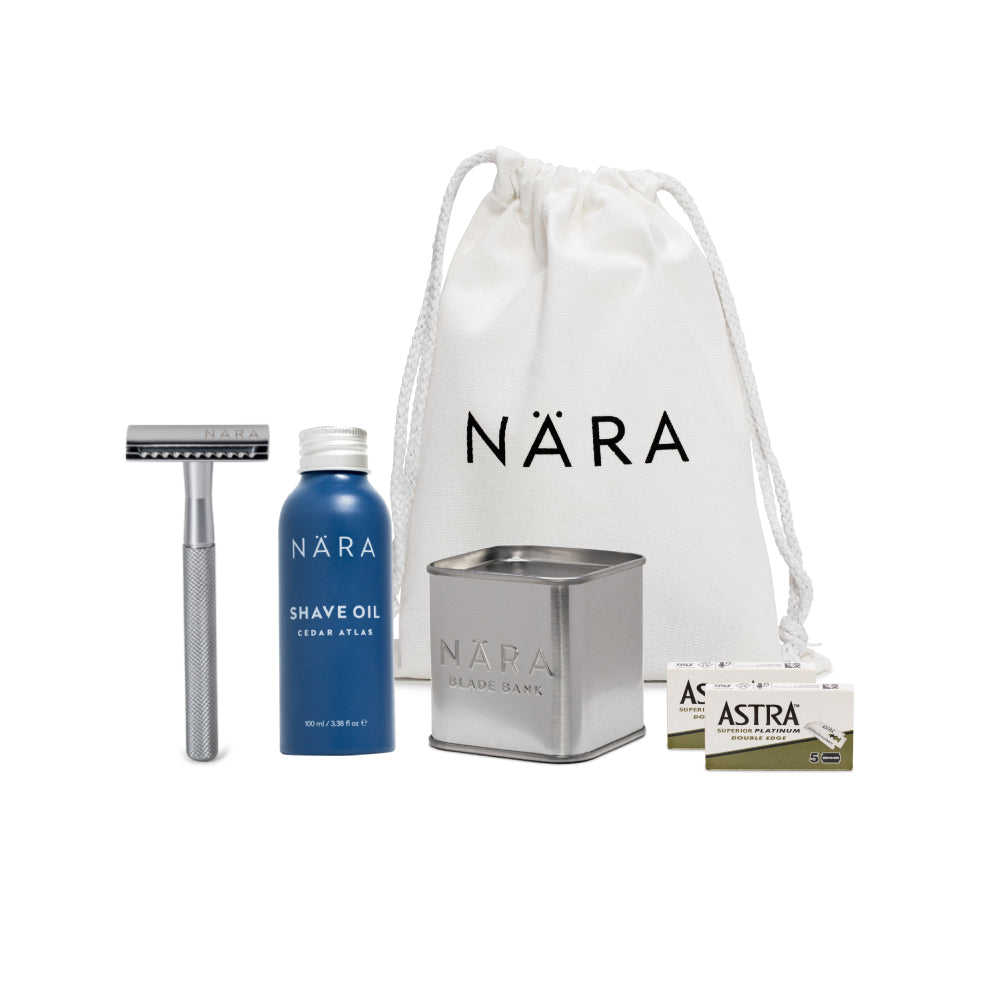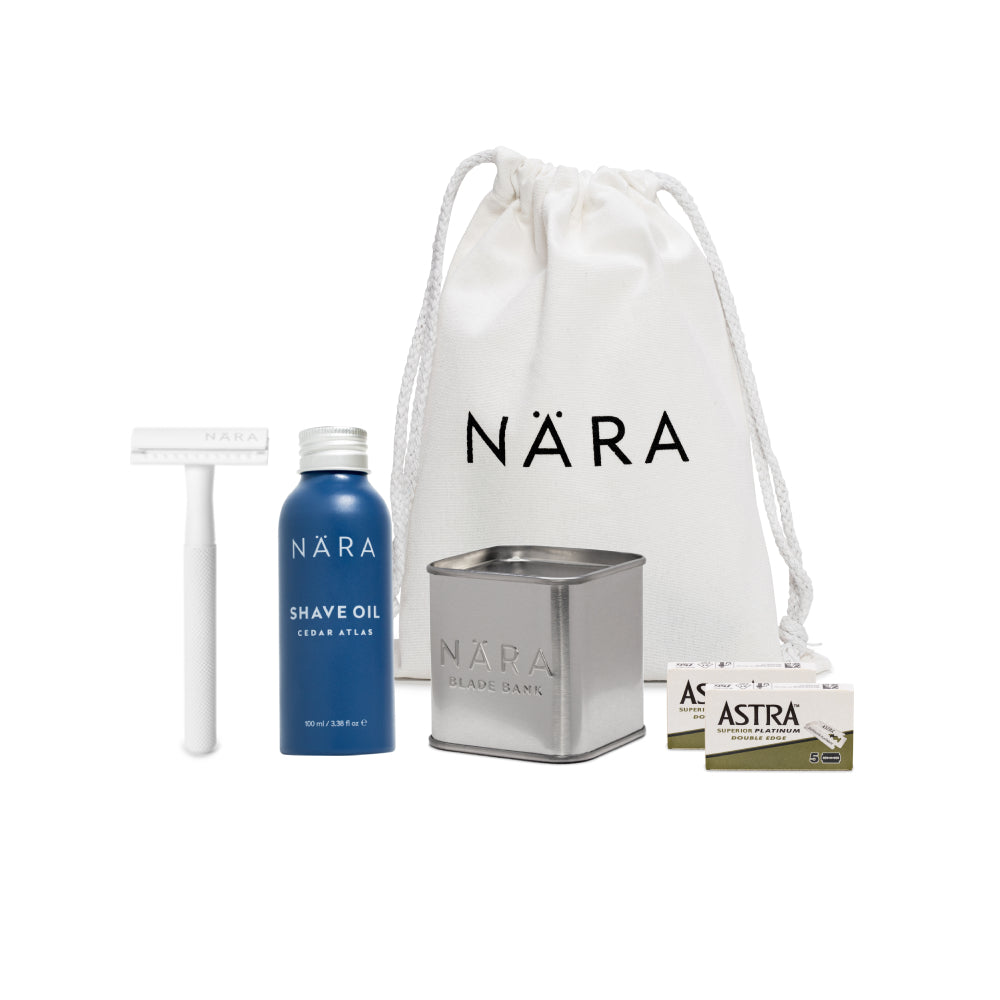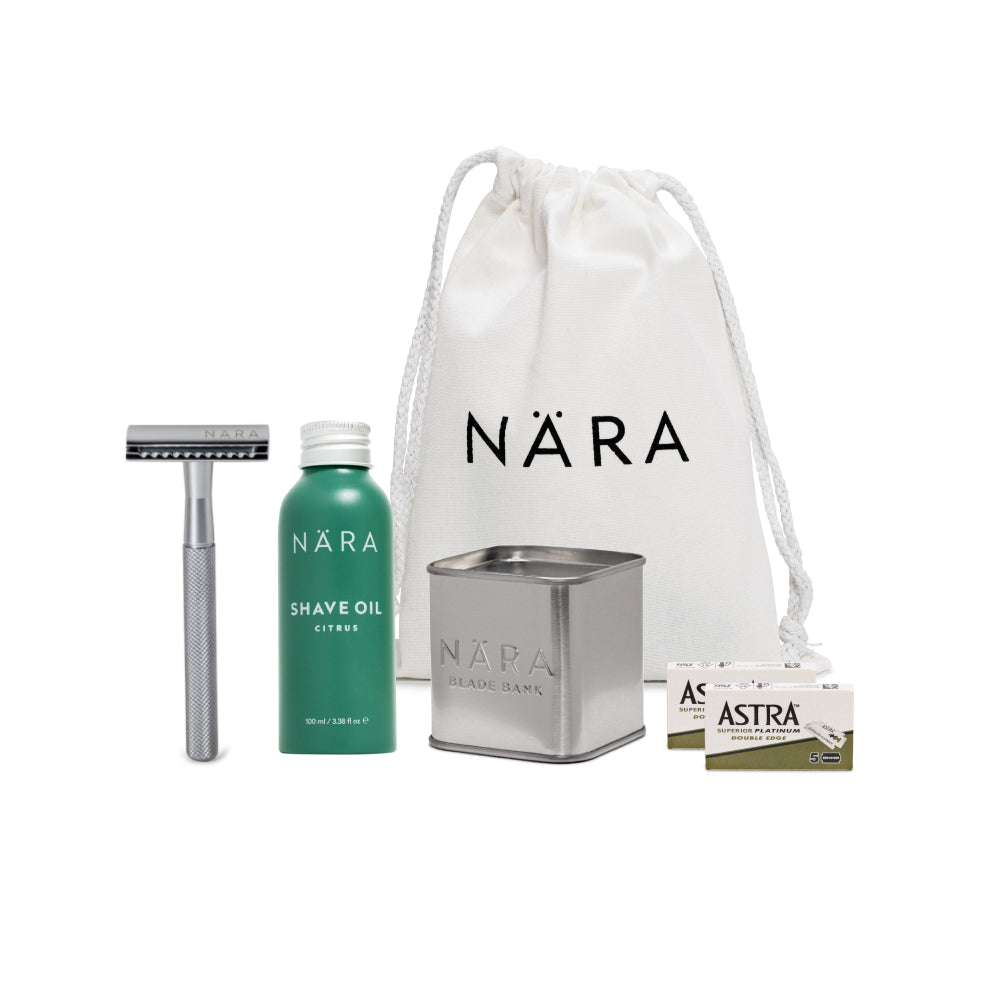 ⭐⭐⭐⭐⭐
"This razor is a beautiful design, packaged in an environmentally responsible way, the shaving oil is divine, and all easy to use."
Meg B - Verified Buyer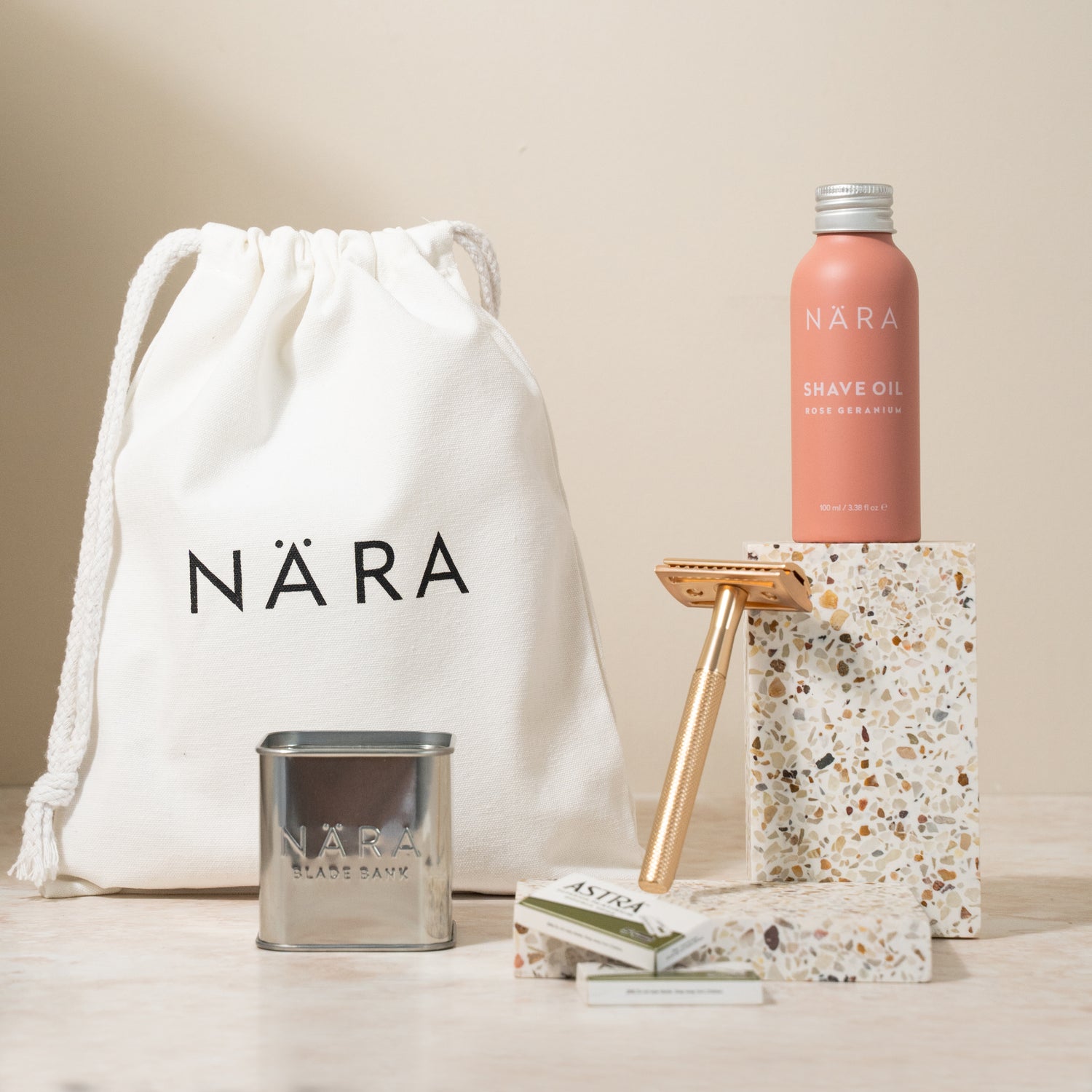 Everything you need in one kit
Our eco-friendly shave kit includes a beautifully designed, reusable safety razor, luxurious shave oil that nourishes your skin, quality stainless steel razor blades and a blade bank to dispose of used blades.
Reusable and plastic free
Reduces skin irritation, redness & in-grown hairs
Uses a single stainless steel, recyclable blade
Beautifully designed and looks great in any bathroom
Up to 6 times cheaper than disposable razors
Better for your skin

Nära razors use a single, replaceable, high-quality stainless steel blade. This means less chance of skin irritation, redness and ingrown hairs.

Eco-friendly alternative

All our products & packaging is designed to be recyclable and plastic-free. Nära is the perfect eco-friendly alternative to plastic disposable razors.

Low-cost shaving

A Nära razor is 2 times cheaper than a disposable razor after 1 year and 6 times cheaper after 5 years. The longer you shave with Nära the more you save.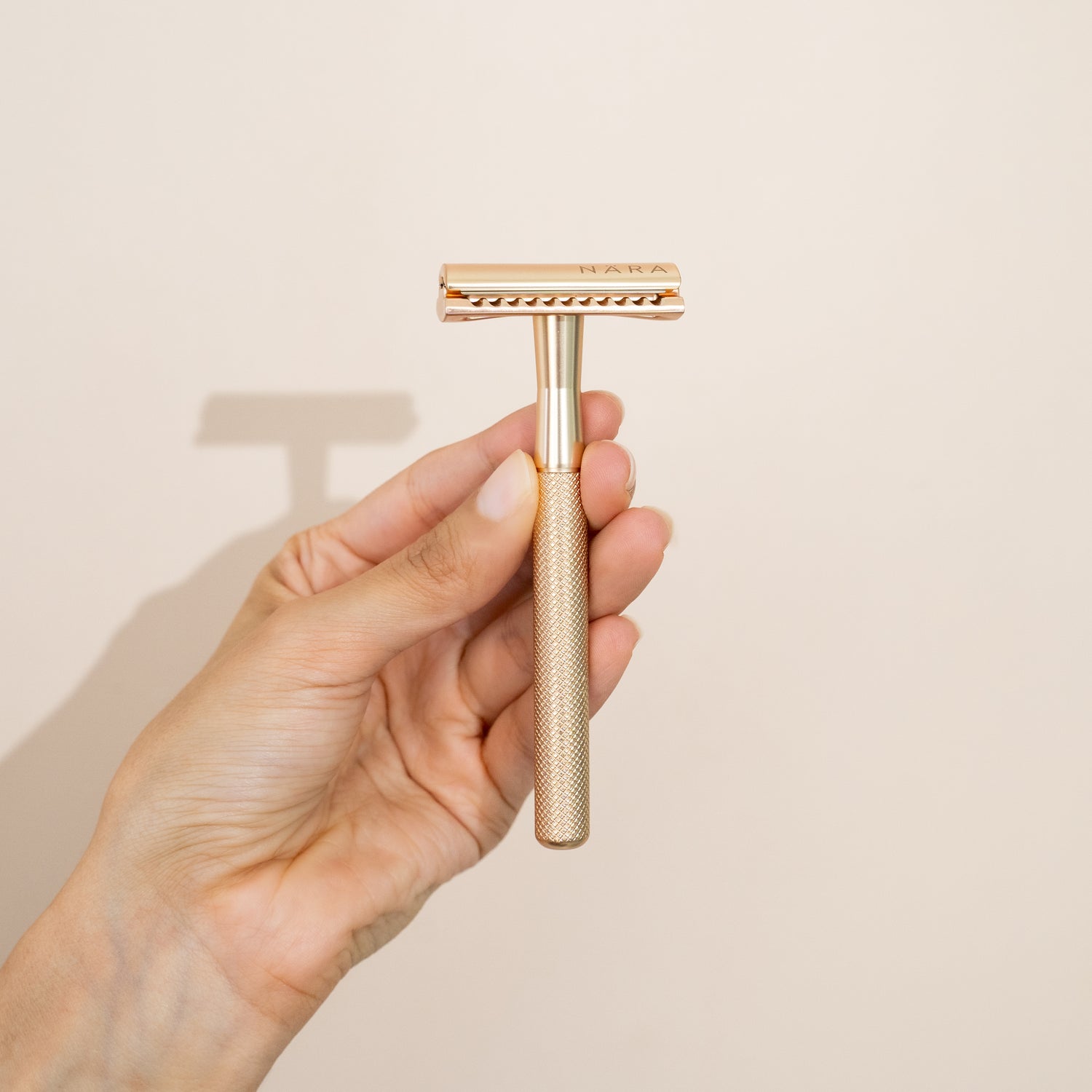 Nära single blade razor vs. your disposable multi-blade razor
Multi-blade razors can result in skin irritation because they are designed to tug the hair with the front blade and cut closer with each following blade. This means your multi-blade razor often cuts below the skin surface which leads to irritation, redness and ingrown hairs. 
A single-blade razor is different, it cuts the hair once at the surface of the skin. This means no tugging and no cutting below the skin surface.
More blades does not always mean a better shave! Try a Nära single blade razor and see the difference for yourself.